A psychologist shares her own therapeutic experiences, so you can see expert therapy in action.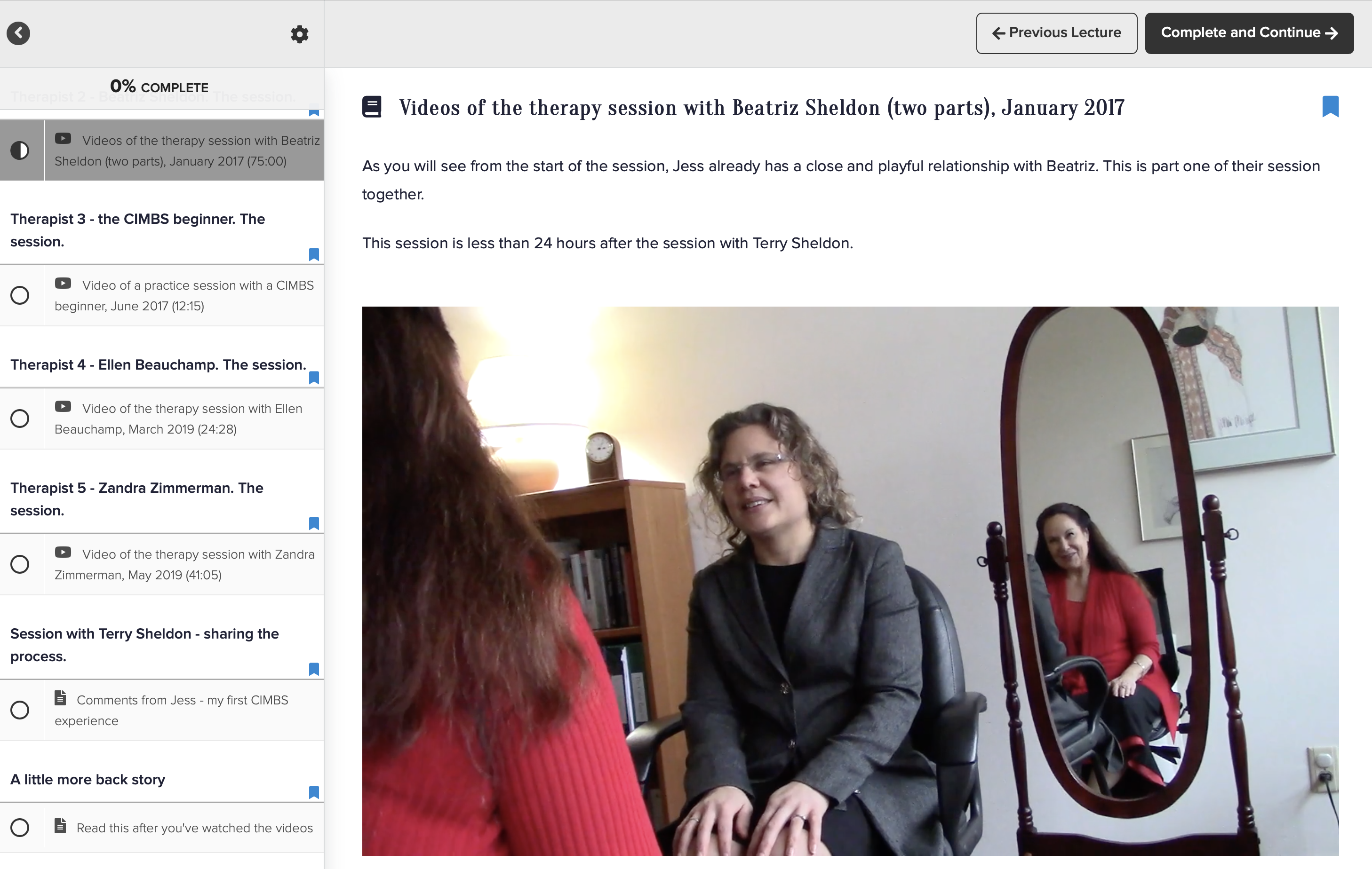 Disentangled: a video journey - our innovative online course.
One client experiencing single sessions of Complex Integration of Multiple Brain Systems Therapy with four master CIMBS therapists and one CIMBS novice.
Are you interested in seeing therapeutic work in action, seeing the development of the therapeutic attachment relationship and moment by moment change? 
Do you want to learn from master psychotherapists and see the remarkable impact of a novice? 
Please visit the CIMBS website: complexintegrationmbs.com
for more information about the paradigm and live training / supervision opportunities.


Learning about therapy directly from observing sessions is a vital part of the development of psychological practice. 
The opportunities for this can be rare, with many workshops and training courses talking about clinical work and not showing it in action. This course gives you access to video recordings of five sessions, transcripts of the sessions with the verbal and non-verbal content of the work. We give you extraordinary insight into this innovative way of working therapeutically. With comments from the therapists about the process and insight into the impact of the sessions from the client, being gradually released in the coming months. Are you ready for a unique and remarkable experience?
 This is the course for you!
Description
This is an extraordinary insight into the diversity of the new paradigm in psychotherapy and therapeutic connection - Complex Integration of Multiple Brain Systems (CIMBS).
The course has a simple structure. We share the therapeutic adventure that Dr Jess Bolton has been on over the past three years, as she has developed her relationship and understanding of CIMBS. Instead of focusing on theory and skills, this course shares her experience from the inside out.
We rarely have real insight into people's therapeutic journeys. As therapists, the opportunity to observe the process and to discuss and learn from witnessing transformational change, is vital to help us develop and grow. Growing through internal emotional experience and deliberate practice, are also vital.
However, as therapists, we rarely get chance to shadow and bear witness, and appropriately so... it is a deeply private experience. But at EmotiHealth, we want to bring transparency to the treatment process and shine a light on the remarkable work that can be achieved with practice and focused learning experiences. We want to help you become supershrinks by developing amazing learning opportunities.
So here, a consultant clinical psychologist and psychotherapist shares her own experience. A profession known for diverting questions about themselves, it is a strange level of disclosure for therapists to share their own therapeutic videos. But, Jess has a lifelong passion for levelling the playing field, for decreasing 'othering' and for looking for ways to equalise power imbalance.
"Symptoms are our bodies responses to extraordinary experiences. These videos shine a light where symptoms were showing up, where the past was still a shadow in the present. CIMBS does a remarkable job of separating and releasing us from the constraints of the past.
And in order to be the highly skilled therapist I aim to be, I simply have to disentangle secondary emotions and behavioural habits, from the primary activations underneath. If I feel shame each time I am playful with my clients, if I feel anxiety when I develop close caring connections, I will stay away from the deeply transformative experiences that set people free.
I am excited to be sharing CIMBS with an international community and feel passionate that this is one of the unique contributions I can make. And the sessions I am sharing don't go into detail about my past experiences, in CIMBS we stay as much as we can in the here and now; disentangling the past from the transpiring present moment. Disentangling constraints which are no longer necessary and instead activating innate, healthy emotional systems."